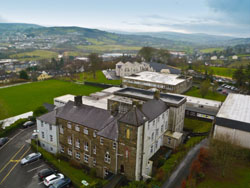 Building donated to HUDTThe Retreat and Day Centre in Letterkenny is something that has been spoken about with devotees of our devotion in Letterkenny for a number of years. Donegal is a place where there is a large following of this devotion. Our first visit to Letterkenny as an apostolate was in 1996. In this visit we had speakers from America, Italy, Great Britain.
This was the beginning of a time when people did not advertise their beliefs but kept them to themselves, religion became a personal thing, and Letterkenny being just beside the border there were two denominations of Christians in the area. But as this devotion is a Christ centred devotion we had both denominations at the talks.

We also discovered that people who socialised together never spoke about their faith and were therefore surprised to meet each other under these circumstances. It was a kind of an awaking for many people attending.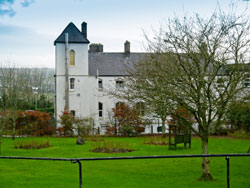 Ground available beside building

It was in these circumstances that a retreat centre was first mentioned. It was a great aspiration and many times since it has come up in correspondence and meetings, but the cost of acquiring a place for such a venture was prohibitive.

Some time later the bishop of Raphoe Diocese, Bishop Philip Boyce offered us a large old building which was in the centre of Letterkenny, in the past a Loreto Convent, it was the ideal size and an opportunity to achieve the hopes and aspirations of many people. The next step was to find the people to support and run it.

As we are a charity that started out in Romania to do works of mercy with homeless families and street children after the collapse of the Ceausescu regime . It was with the help of an community of religious sisters who gave their time to the poor in Romania that we did this work.
In the Letterkenny project we added a day centre and approached a similar religious community to help out there. They came on three different occasions to assess the needs and then agreed to support and run this facility when it is concluded.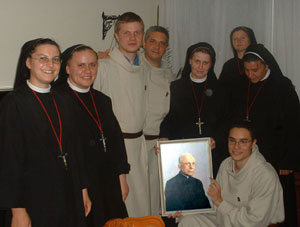 Brothers and Sisters of Merciful Jesus founded by St. FaustinaWe had a survey and an architects report on the structure and services needed in Letterkenny. Finding this satisfactory we then got the architect to draw up plans make an application for permission to the Local Authorities.

The work is now underway and we hope to finish this project early next year. You can see a draft of the plans on the next page. All of the plans and specifications can be viewed at our offices.
The Community of Merciful Jesus have volunteered to run this HUDT project. The allocation for this project is €1.2 million Euro.