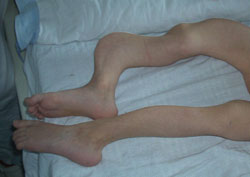 Osteogenesis Imperfecta PatientOsteogenesis Imperfecta or Lobstein disease is a common condition effecting thousands of children in Eastern Europe. The condition is caused mainly by malnutrition.
Children who suffer from this illness have bones that are very weak and in time splinter and protrude through their skin, leaving them in much pain and after a while without any use of their limbs. If they don't receive medical aid and surgery, they will within a short period of time begin to experience a slow painful death.
In 2000, after a lot of research and consultation with orthopaedic surgeons, we finally found a surgeon who put forward an answer. He believed that if their bones were brought back together again and attached to flexible telescopic rods, a type of rod that would be flexible with young limbs and would expand with the growth of the child.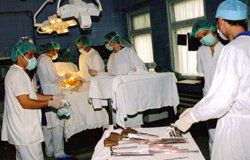 During Osteogenesis Operation

So with experimentation and research we discovered they would have to be made of titanium, for strength and flexibility and non-rejection by the body, and made telescopically to expand with the growth of the child.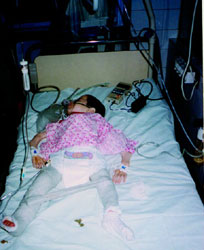 Patient after operation
They had to be made to allow a young child all the mobility they would need in youth. To meet with all of these requirements meant us getting the implants made from very expensive titanium. We finally found a surgical needs company in Germany who could produce these implants for us which became the ideal solution.

On the 13th May 2000 in the Marie Curie Children's Hospital, Bucharest, Romania, we made history with a team of surgeons we brought together. They carried out the very first operation of its kind in Romania.
Within a month a further three successful operations were carried out, all of which our foundation provided for, presenting us with a hefty €60,000 bill.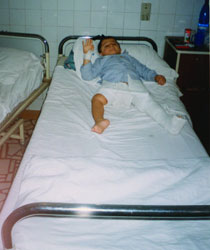 Another patient recovers after operation The first operation was financed entirely by Divine Mercy Publications, a publishing group owned by Val Conlon who published and promoted the revelations given by Jesus to Saint Faustina.

Since then these operations are continuing, scheduled for every month all of which 'Help Us Dry the Tears' pay for in full.
The University of Bucharest published a book outlining the historic procedures carried out with the help of Val Conlon as an individual, before he founded the charity, 'Help Us Dry the Tears'.
Historic Operations Reported in Romanian Newspapers