New SchoolIn 1988, Val Conlon met a Jesuit Polish priest, Fr. Jacub Rostworowski, in Dublin who was on his way to Zambia to serve the Polish Church as a missionary there. After he arrived in Zambia, he continued to communicate with Val and it was apparent that he was working under great duress in his efforts to cater for the poverty that existed in the area he served. Val immediately decided he would help in whatever way he could, with the work that Fr. Jacub was engaged in.

Fr. Jacub's priority was to feed the hungry before he preached to them. There were no schools, no medical facilities of any sort within a hundred miles. There was no transport; there was no aid of any sort available to the population and NGOs were the only source for relief in most of Zambia.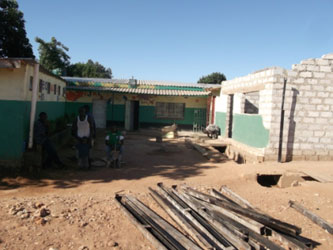 Building new day center

He got a certain amount of support from his diocese in Poland but the amount needed was way in excess of anything he received. So Val Conlon personally helped him until such time as Help Us Dry the Tears (HUDT) came into existence after which donors to HUDT provided the aid going out to Fr. Jacub in Zambia.

Fr. Jacub and his brother were influenced to become priests after seeing their father, who was a professional artist, paint an Image of Divine Mercy in his studio in Cracow. After his ordination Fr. Jacub was appointed Chaplain first at the Hospital in Rabka where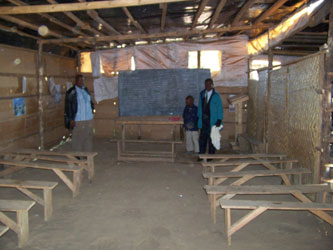 Temperory ChapelSaint Faustina had convalesced during her final bout of illness, and then he became Chaplin at the convent where she died. Fr. Jacub brought Val out to Poland to visit his home and then showed him all the places associated with St. Faustina and Divine Mercy in Cracow before his departure for the missions.

It is worth mentioning that any donation for the work we do, goes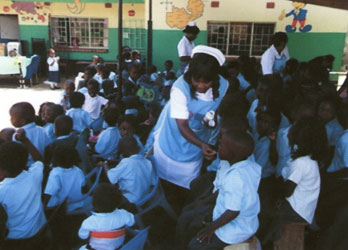 Medication for children directly to the project you donate for. We do not take anything out of donations for wages or expenses of any sort. All our workers are volunteers and any expense is paid out of their own pockets as their contribution to Divine Mercy. The profits from our 'Divine Mercy Publications' book sales, is the main contributor to all our projects. I think we are the only charity that can honestly and sincerely claim to take nothing from donations.