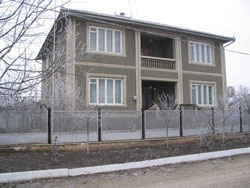 House purchased for Day CenterWhen we went to Moldova for the first time, we learned it was the last communist stronghold in Eastern Europe. 'Help Us Dry The Tears' HUDT had a friend in the American embassy in Romania, Bill Crawford, who was the Commercial Attaché there. Bill suggested Cupcini was the most impoverished place in Moldova so our purpose in going there was to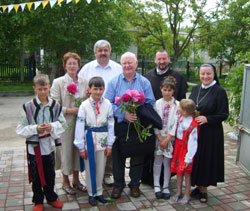 Mayor and Val Conlon at opening of Day Center provide aid to the poverty stricken in this area and Cupcini was the place most needing help at that time.

In order to run this centre HUDT had to have volunteers to go and work there and therefore asked help from the 'Sisters of Jesus' the wonderful sisters that already worked with HUDT catering for the poor in our house in Bucharest, in Romania. They agreed to go there with us and the first visit there was by Val Conlon and the Superior of the community.

Since the end of the Second World War the country had been governed directly by Moscow, but now it had reached the stage where it was governed by a local Moldovan Communist Government. It called itself a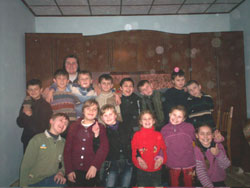 Children being catered for in Day CenterDemocracy but was not anything near that.

To demonstrate this Democracy to the world, they had a short time before we planned to go there allowed the Catholic Church back into the country and there was a new Catholic Bishop in residence in the capital Chisinau, who was a Moldovan national. So we decided to visit him to get information on how we would go about our work there.

The first thing we discovered was that property could not be purchased in Moldova by another National or another National organisation but only by people who were Moldovan. So finally an arrangement was made with the Bishop to acquire any property we decided to purchase on our behalf. We travelled the long drive to Cupcini to search out a house or building we could begin our work from.

We were most fortunate to meet the most important man in Chisinau, the Russian Communist Mayor, who was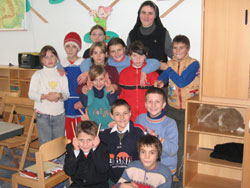 Children being educated in Day Center married to a local who happened to be a Catholic, this was a big break for us. He had a very large house which he was only too willing to sell us and get us approval to use it as a day centre.

He was also the man who later got us approval to build a Catholic church on ground that was attached to his house. The previous church had been bulldozed by the Communists when they occupied Moldova in 1945.

Two of the sisters that were going to work in Cupcini bravely went to Moldova first to learn the Russian language in order to be able to communicate with the people.