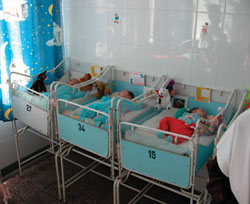 Abandoned infants catered for by HUDTWe were approached by a citizen in Bucharest who told us that the short staffed maternity hospital was finding it hard to cope with the number of babies that they found abandoned outside the steps of the Bucharest Maternity Hospital every morning.
We were shown a picture of a small infant wrapped in a blanket on the steps of the hospital discovered that very morning which tugged at the heart and left us with no alternative but to go to the administrator of this hospital and offer whatever help we could. They were delighted to see us and we immediately became involved in reaching out to relieve this horrific situation in every way possible.

At this maternity Hospital an average of eighty babies are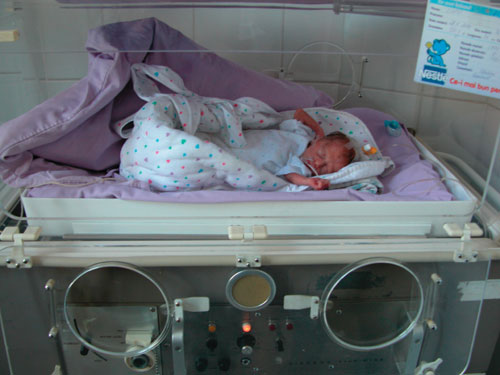 Baby saved by Incubator abandoned on the doorstep each year. With little or no resources, the wonderful staff, who for very little are being tested to the limits of their endurance to keep this hospital ticking over. We have now given much needed help in the way of medicines and supplies, but what they really need is more staff, in the form of qualified nurses and doctors.

The building itself is very old but very large. This is somewhere that we could bring help to lives that are only beginning. Divine Mercy can enter their lives at an early age through our hands, and through the prayers given to Saint Faustina we can invite the Holy Spirit into their lives.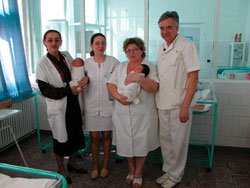 Caring Staff of HospitalVery shortly after this emergency it was brought to our attention that the Monaghan Hospital in Ireland had closed down and devotees who worked in this hospital put our charity forward as a group that could use equipment that was in excellent condition but would otherwise have been dumped.

We were delighted to take up the offer and a couple of weeks later, our offices looked more like a hospital store room than a place for publishing books. At the time we thanked the Lord for so many devotees in the Monaghan Hospital who remembered the work our charity was involved in.

The Maternity Hospital in Bucharest was delighted to receive a number of incubators and various other hospital equipment they could so easily make use of. It would not be too far-fetched to think that the incubators we provided saved young lives that otherwise might not have survived.