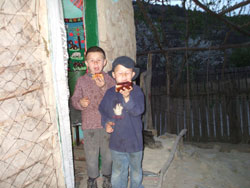 Hungry ChildrenIn autumn 2006, we started a new project in the village of Luizi Calugara with children from very poor families who before we arrived were living in tents beside rubbish dumps. Finding where to start wasn't very difficult, as the village is very big and there are so many families with children living in appalling poverty.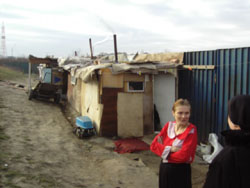 Homes they live inAfter the sisters visited the families, they got in touch with the local doctor and primary school teachers and she set up a special place for the worst cases in our new "Divine Mercy House". All of these children had serious health problems because of the conditions they live in and the lack of basic hygiene.
The first purchase our sisters had to make for the house was washing machines to wash children's clothes. The next job was to install showers to wash the children themselves. There were problems with heating hot water, so a large boiler had to be purchased and installed. After breakfast the children go to school, after school they come straight into the Divine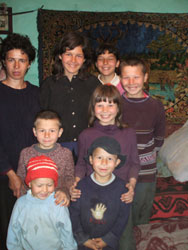 We contribute to putting smiles on these facesMercy Centre, where they get something to eat and then they start doing homework with the sisters helping with their education needs. It is quite touching to see the children being so grateful just for receiving food. It was probably the first time they were allowed to eat their fill. When at first the sisters make a lunch for them going to school, many started eating this going out the door.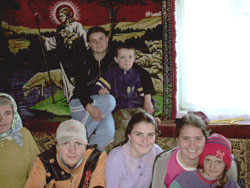 Another family supported by us
The sisters visit the families in the area daily to help with their needs, their biggest problem is dealing with alcohol problems as many of the parents are alcoholics, whatever little money they lay their hands on is spent on cheap alcohol. In many cases, both parents have died from alcohol abuse or some other disease and before the sisters went to the village there was no support whatsoever for the children left behind. Some of the other families try to help the orphaned children but they are so poor, it is difficult to give consistant help.
This changed when we brought 'Help Us Dry the Tears' to the village and gave assistance to all of the problems we encountered there.